In part to be contrary, I'm going to suggest that to get this nation moving in a positive direction, we need to have a radical discussion about the basic economic realities that most Americans are facing, including the impact of race and class in our hyper-stratified society.
This is not to say that tackling the tax reform-redistricting-lobbying-campaign finance nexus wouldn't be a good idea. The way money flows through our government and those tasked with running it is truly embarrassing. I fully expect that Clinton and Jacob will do a fine job of addressing these issues. But by and large the differences these issues make are at the margins. They are about how the relative power of the middle-class, the wealthy, the super wealthy, and the inconceivably wealthy. But there's another half of America out there, which also deserve treatment as full citizens.
If I could start a serious new conversation it would be about the way in which race and class work together to keep many Americans stuck in place while only a few enjoy the bounty our nation has to offer. Contrary to our image as the land of unfettered opportunity, the United States right now is a place in which economic mobility is scarce. Race and class play an outsize role in the land of the free.
Let me give you two quick examples of what I mean. First, regarding race, consider this chart from a Pew Research study released in 2011:


Yes, you are reading that right. The median net worth of white households was almost 20 times the median net worth of black households. Hispanic households faired only a bit better. Even if we could set everything else aside, that wealth gap alone will make a huge difference in the future of members of that household – in terms of financial planning, educational achievement, entrepreneurialism, retirement, job opportunities, physical mobility, etc. For a fuller, and masterful, treatment of the ways in which recent U.S. housing policies created, maintained, and perpetuated racial outcomes like the ones represented in this chart, I'll point you to "The Case for Reparations" by Ta-Nehisi Coates. (See also his four–part narrative bibliography of the project and the video TL;DR version.)
In terms of class, consider the combination of stagnant household medium income (below, from the U.S. Census) and low levels of economic mobility found in the latest studies (in which we lag significantly behind other 'developed' nations).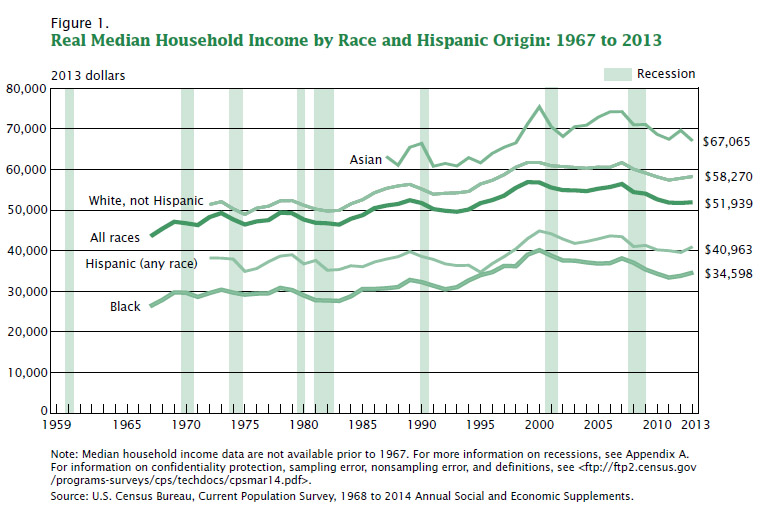 Again, this is not the "land of opportunity" that our best ideals would make it out to be. Do some people succeed, despite these racial and class factors? Of course. My two favorite examples are men named Barack Hussein Obama and Clarence Thomas. But this is not Lake Wobegon, in which we can expect all the children to be above average. And this is just the economic picture.
I teach U.S. history. It is impossible to do so, even for the post-Civil War period, without drawing attention to the ways in which U.S. government policy has favored private property rights over economic opportunity and the white citizens over others.
Why haven't we ever had a full and meaningful conversation about race and class in this nation? Because even raising the questions are painful and the answers can seem impossible. I see this every term with my students, who knowingly shake their heads about Plessy v. Ferguson and are later shocked to see the household wealth chart I included above.
Unfortunately, in American, we have become far too adept at masking the realities of wealth and poverty in our midst. Until we can see the problem, we have little hope of addressing it. To quote Faulkner, "The past is never dead. It's not even past."
The following two tabs change content below.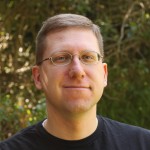 a reform-minded historian, center-left Democrat, and religious believer.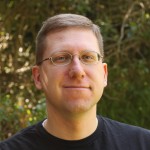 Latest posts by Jason LaBau (see all)